Santiago de Cuba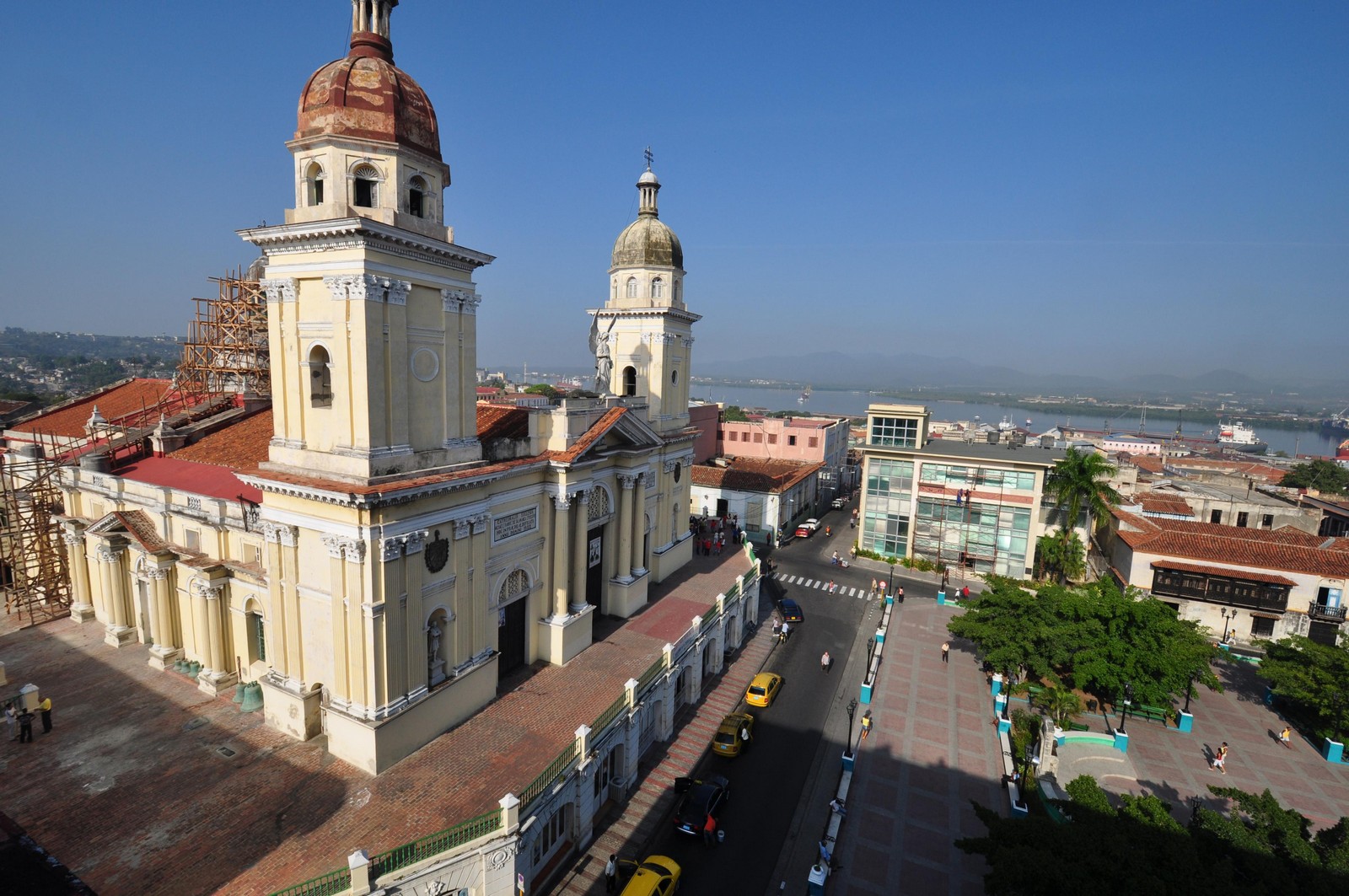 Facing Santiago's bay, an ancient natural port used by the Spanish, Santiago de Cuba is Cuba's second largest town, capital of the Oriente province and has very little to envy to the capital, in terms of politics and culture; the Universidad de Oriente is one of the most famous in the country. The near French colony of Haiti has enriched the mix of races in this province – Haitians, Africans and Spanish – giving it a real Caribbean taste.
Here you won't find the typical American art-deco buildings you'll see in Habana and the town centre has a strong Spanish colonial connotation. The most touristic zone, with hotels and clubs, is Porto Alegre. The centre, where you'll find the majority of colonial buildings, is between Parque Cespedes and Plaza de Dolore, parallel to Calle Josè Saco. The old residential areas north and south of the town centre are also worth a visit.
The town centre is around Parque Cespedes, the old Plaza de Armas; here a bronze statue remembers Carlos Manuel de Cespedes that claimed independence from Spanish power with his work: the Grito de Yara. Many building, like the Ayuntamiento, the town-hall from which Castro declared the victory of th Revolution on the 1st of January 1959, the house of Diego Velasquez, town's founder, and the Catedrale de Nuestra Señora de Asuncion are all sitting around the Plaza; the church was built to replace the most ancient cathedral in Cuba and Diego Velasquez is buried there.
Two blocks eastwards, the Museo Municipal Emilio Bacardi Moreau, first mayor of town and rum producer, hosts a collection of objects from the Independence war, weapons and paintings in a neo-classical style building. The Moncada Army Barrack, symbol of the revolutionary rebellion against Batist's government, is in Avenida Moncada and even if is now a school, it has a small museum about the history of Cuba, from discovery to nowadays. The Castle of San Pedro del Morro, on a small rock at the bay's entrance, has been declared World's Heritage by UNESCO. A visit to the rum Bacardi plant, in front of the train station, should not be missed; Bacardi family fled to Puerto Rico after the Revolution and today Varadero and Santiago rum are produced for local consumption. There is a bar
for rum tasting.